Hybrid Delta 8 Vape Cartridges
February 25, 2021
Hybrid Delta 8 Vape Cartridges
$35.99
Earn 360 points upon purchasing this product.
SKU:

N/A
Delta-Sigma-Smilyn! Derived from hemp, Hybrid Delta 8 Vape Cartridges give you an uplifting buzz that gives way to relaxation ؅— zero anxiety or fogginess. Hybrids are a balance of head and body high. Feel your senses come alive.  Inhale. Exhale. 
Customer Reviews
Write a Review
Ask a Question
09/12/2021
John B.

US
Return policy
Sometimes when I buy disposable pens they don't work. I ask to return for one that works but nobody ever responds to you. Very frustrating
07/23/2021
David B.

US
Gorilla glue yum yum
Gorilla glue is my favorite flavor of the smilyn brand. Fruity in flavor, like green eco-cooler hi-C from back in the day. Very strong effects, 3 strong hits and i set it down. Feel both head and body eouphic feelings, if you are thinking of trying smilyn start with gorilla glue, best cart!
07/08/2021
Christopher C.

US
Decent
Pretty good product. Having some issues getting it to work with my pen but probably a user issue. Great customer service and products
03/30/2021
Elias M.

US
Good choice
Pretty impressed :)
03/29/2021
Misty K.

US
Wow
These are by far the best delta 8 carts I have tried ! Though delta 8 is new and more new to me. This is one of the best I have tried. Everything though smylin wellness is amazing. The flavors. Mmmmmmm. I have chronic pain and I have severe anxiety ! These products have helped me come off if anxiety meds all together!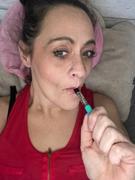 Smilyn Delta 8 Hybrid Vape Cartridges contain approximately:
Cartridge: 1ml
Type:  Delta 8 oil with natural terpenes
Strains: Hybrid
Amount of Extract: 800mg
Extraction Material: Hemp
Delta 9 THC Content: None detected
Natural Terpenes: Yes
Agents: No VG, PG, PEG, or any other cutting agent
Directions: Attach the cartridge to a 510 compatible battery and inhaling with lips around the mouthpiece. Keep out of sunlight and in a cool, dark place for longest life of product.
| | |
| --- | --- |
| Weight | .8 oz |
| Strains/Flavor | Hybrid Wedding Cake, Hybrid Gorilla Glue, Hybrid Strawnana |
Hybrid Delta 8 Vape Cartridges