CBG + CBD Oil Tincture – REVIVE
December 3, 2020
CBG + CBD Oil Tincture – REVIVE
$88.00
Earn 880 points upon purchasing this product.
Concerned about getting sick, feeling exhausted, experiencing lackluster physical performance, or suffering from the effects of a dreadful hangover? Need more fuel to get through the day or to give your immune system a boost? Meet REVIVE by Smilyn — combining the maximum benefits of CBD + CBG, lemon-lime flavor, and adaptogens to provide a much-needed refill for the mind and body.
| | | |
| --- | --- | --- |
| | | |
| Lab Tested | THC Free | Non-GMO |
Customer Reviews
Write a Review
Ask a Question
01/24/2021
Kayla B.

US
Amazing cbd and customer service!
Was very pleased with my first smilyn purchase. One item in shipment was mixed up and once contacted about was sent a new correct item right away. Very happy with how fast and friendly the service here is on top of quality cbd. I have RA and my inflammation CRP levels have decreased with using cbd everyday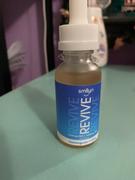 12/29/2020
Matt P.

US
Integrity
I felt very confident because of the integrity of the founders of company. I have been following many Cbd brands. Smilyn has improved my focus during the day. I also take the other cinnamon 1,000 mg everyday. It's the best I've found on the market.
What is CBG (cannabigerol)? Because it is non-psychotropic, CBG has a talented range of potential therapies, including pain reliever, therapy for psoriasis, and an antidepressant. CBG is thought to be particularly effective in treating glaucoma because it reduces intraocular pressure, an effective antibacterial agent, found to be effective in decreasing the inflammation characteristic of inflammatory bowel disease, and is showing great promise as a cancer fighter. In a recent study, researchers showed that a form of CBG (without THC) was a highly effective appetite stimulant. This may lead to a novel non-psychotropic therapeutic option for severe weight loss seen in late stage cancer and other diseases. CBG also tested superlative at inhibiting muscle contractions, so it may be a future tool in preventing bladder dysfunction disorders.
Smilyn CBD Tinctures are safe, reasonably priced, and easy-to-use — each CBD oil tincture contains 30* servings and can be taken day or night, sublingually.  *30 – 1mL servings
Adaptogens: Ashwagandha, Turkey Tail, Cordyceps, Turmeric, Vitamin D3
Cannabinoids: 1250mg Cannabidiol (CBD), 1250mg Cannabichromene (CBG)
Terpenes: Proprietary Blend Lemongrass Terpenes, Lime Terpenes, Beta-Caryophyllene, Limonene, Myrcene, Linalool, Beta-Pinene, Humulene, Sabinene, Geraniol, Phytol, Terpinolene, Borneol, Alpha-Terpineol, Alpha-Terpinene, Alpha-Pinene, Gamma-Terpinene
Tasting Notes: Lemongrass, Lime
Directions: Shake well before each use. Fill the dropper, squirt under your tongue, hold for 60 seconds and then swish around your mouth before swallowing. The premium hemp extract tincture is fast-absorbing and simple to use, yielding quick and effective results.
0% THC | NON-GMO | MADE IN USA | NO PESTICIDES | LAB TESTED
Our hemp is farmed, grown, extracted — and lab-tested in California to ensure consistent, premium quality. Our products are Federally legal.
Shelf Life: 18-Months
CBG + CBD Oil Tincture - REVIVE